Quality of life as a remaster design philosophy
Final Fantasy XII: The Zodiac Age has a North American release date of 11 July on Sony PlayStation 4. Square Enix revealed the date as part of their Final Fantasy 30th Anniversary Opening Ceremony in Tokyo.
The Zodiac Age is a remaster of 2006's Final Fantasy XII, a game that received critical acclaim (including perfect scores from Famitsu) but divided audiences with apparent concessions to MMO-like mechanics such as action-oriented battles and randomized treasure chest contents.
The remake features HD graphics, 7.1 surround sound, a newly-recorded soundtrack, trophy support, auto-saves, and shortened load times. Notably, it also includes the speed boost function and the Zodiac job system from the Japan-only "International version" of the original game. There is also a "Trial Mode" that challenges players to one hundred battles of increasing difficulty.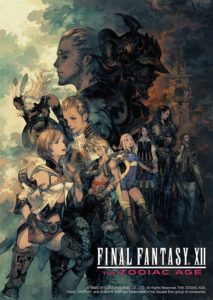 Square Enix has approached this remaster as a user experience or "quality of life" update. Much of the added or enhanced functionality is designed to give players greater freedom in how they enjoy the game.
Introducing the game on the PlayStation Blog on 6 June, 2016, producer Hiroaki Kato promised purists "the option to switch between the new and original versions of the score at any time." Players can also choose between English and Japanese voice acting. The speed boost allows players to hold a button to traverse the expansive environments in "fast-forward," making backtracking more palatable. Speaking with Polygon, Kato also revealed that the game was rebalanced to make it somewhat easier, with the Trial Mode intended to satisfy players who seek additional challenge.
Square Enix's marketing even positions the Zodiac Job System along these lines. The game's main page refers to it as a "character leveling system that now caters to the player's preference" and some coverage extrapolates on these claims (such as Polygon's recent claim that the system "provides greater variety and customization in a player's party").
These stray bits of promotional material can be somewhat misleading; the Zodiac Job System is actually more restrictive than the wide-open licence board of the initial release. In the original version, each character could eventually learn every skill and unlock every upgrade in the game, allowing players quite a bit of flexibility when designing and adapting strategies. The Zodiac Job System forces players to choose one specific job per character, each with its own licence board and limited set of skills and upgrades. This job cannot be changed throughout the course of the game. While this system definitely adds some strategic depth and challenge, it actually limits customization and player freedom.
It is currently unclear whether The Zodiac Age includes both licence board systems as options. It's understandable that Square Enix would focus efforts on promoting new features of the game, but in an update that purports to cater to player choice, it would be an odd omission.
I reached out to Square Enix for clarification on the included job system options, but did not receive a reply as of the time of this publication. Update: A Square Enix representative wrote back to confirm that the original open licence board is not available in this remake.

Join the conversation! Comment on this article at This Old Neon's community forums.
References
"Final Fantasy XII: The Zodiac Age." PlayStation Trophies. Accessed 31 Jan. 2017.
Good, Owen S. "Final Fantasy 12: The Zodiac Age gets a launch date." Polygon. 31 Jan. 2017.
Kato, Hiroaki. "Final Fantasy XII The Zodiac Age Launches on PS4 in 2017." PlayStation.Blog. 6 June 2016. Accessed 31 Jan. 2017.
Kollar, Philip. "Here's everything that's new in Final Fantasy 12: The Zodiac Age." Polygon. 7 July 2016. Accessed 31 Jan. 2017.
Square Enix. Final Fantasy XII: The Zodiac Age. Accessed 31 Jan. 2017.
Square Enix. "Press Release: Return to Ivalice on July 11 in Final Fantasy XII The Zodiac Age." Square Enix Press Center. 31 Jan. 2017.